Highlight your students' holidays in the class
Which kid doesn't love the summer holidays? Or adult, as for that matter? Wherever one decides to spend their summer freedom - at home, abroad, or in the neighbouring country - it is about letting go of one's routine… of timetables, tasks and duties.
Older kids and teenagers normally love to express their own personal experiences and feelings. So what better opportunity than to talk about their own holidays? Of course a discussion about one's summer holiday can be over in a mere moment. To avoid that, you could help them channel their personal experiences, and turn them into learning opportunities to share with the rest of the class, in an interactive way.
1. Holiday snapshots 
We're living in an age where practically every older kid and teenager communicates with images, videos, and uploads photos in Instagram, WhatsApp, etc. So why not use this visual reality to promote creative ways of communicating holiday experiences? 
Ask your students to select representative photos of their summer holiday and prepare a simple presentation, in which they can put words to images. 
They will be stimulated to think about the most important or defining moments or their holiday, to analyse and select what they want to share. Moreover, ask them to come up with short and snappy sentences to describe the visuals.
Equip yourself to teach your best
Students will probably understand how to work with the LessonUp layouts in the blink of an eye. In our platform they can easily upload up to 5 images in a photo question.
To be sure they don't overload their presentation with a lot of the same, limit the number of photos they can upload, and ask them to mix different kinds of photos. If you are worried that they might show "silly" images, ask them to check their work beforehand.
Other than imagery and texts, in LessonUp you can involve another sense: hearing. Once they have fed you an image, together you could complement the visuals with audio messages: recordings of the sound of the sea, city traffic, or people speaking in a foreign language. It would make for even more interesting classroom conversations.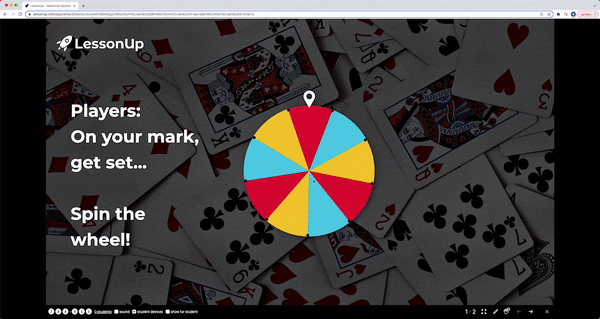 2. Energising questions about the holiday
Take some time to prepare some not so "standard" questions about your students' summer holiday. Not the classic questions about where and which activities, but more process-oriented, for example: "Have you learned something new? Did you miss some of your daily routines? Why? Did you challenge yourself or others? If so, how?". 
It's up to you to decide what aspects of your students' holiday you would like to highlight in front of the class, also based on the subject you teach, and on what works for your students. Random questions can be fun, but if you notice that a student lingers on a question or is lost for words, don't make them binding and just move on to the next one. He or she will be thankful for your tact, feeling understood. 
Create lessons you look forward to
The LessonUp's digital spinner is the perfect interactive tool to energise your students and look back at their holidays. Questions are chosen randomly by the spinner, creating an 'unpredictable', yet fun and exciting classroom dynamic. 
As a teacher, you decide which questions you want to insert. You can write as many different questions as you like. Students love working with the invigorating spinner. If they don't have an answer to one of your questions, just spin the wheel once again, and off you go. Energise and inspire each other with random holiday insights & adventures! 
3. Map what they have learned during their holidays 
Define a central holiday theme and have your students think of related content. 
Would you like to know if they have experienced something new? Write "new things I have learned during my holiday" at the centre of the mind map, and let your students write down what they have learned. At the beginning, they might think that they have not learned anything new, but on second thought one of them can now speak a bit of Italian, another has visited an art museum, and a third student has read an interesting book. There are no wrong answers, just different experiences to share in the classroom.
Empower every student to participate
In a LessonUp lesson you can create a digital mind map and ask your student to fill it in with as much information as possible, at their own pace. 
You can discuss their answers together with the class, and maybe come up with new insights together. Check if students have common experiences. It may even be nice to divide them in teams to see if together they can define the most important learning moments of their summer holidays, and write them down in a dedicated slide.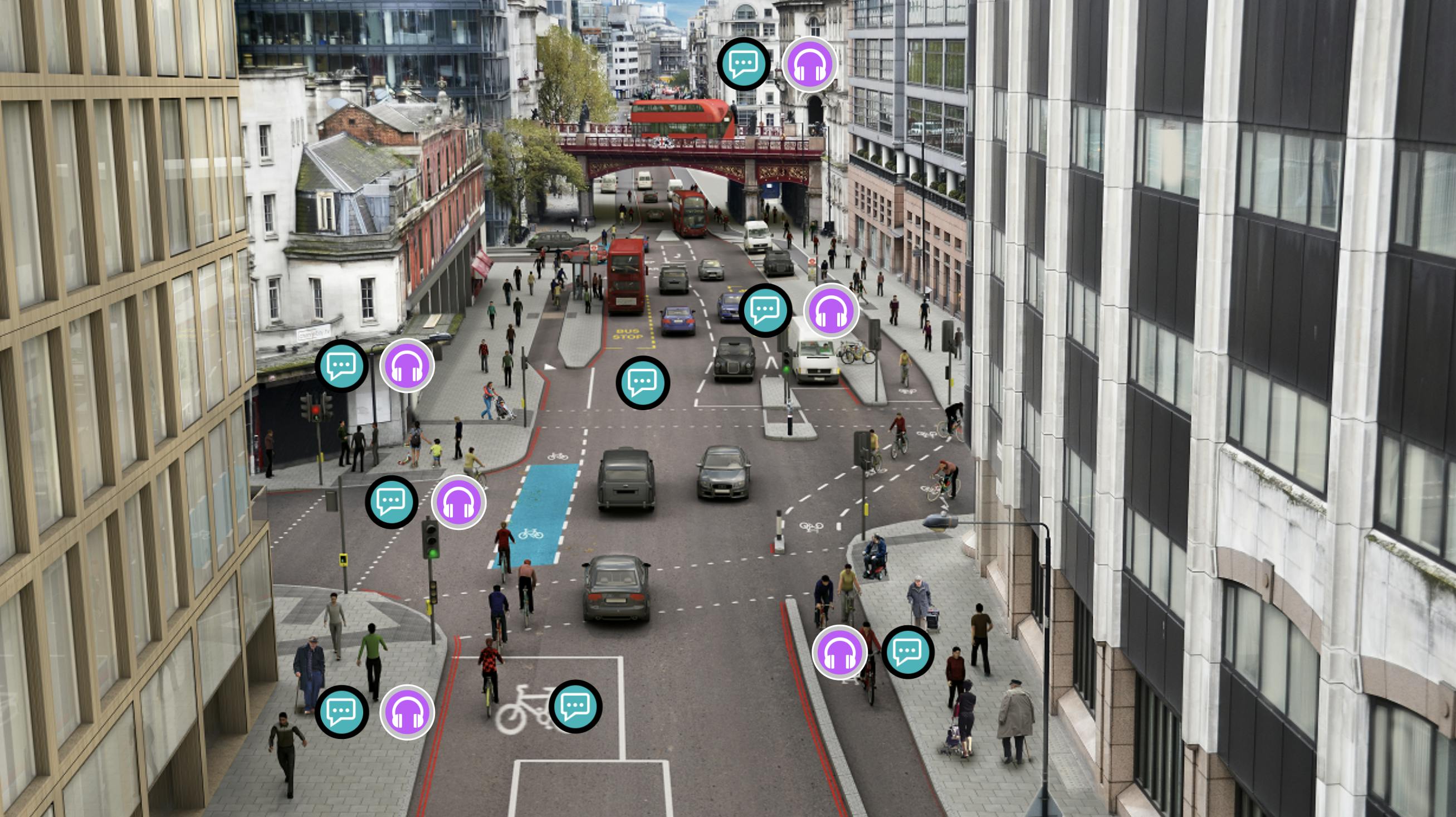 4. Panorama image with hotspots
Almost everybody has a lovely panorama image after returning from the holidays. A sea panorama, a city view, or maybe a street with restaurants and shops. 
People are generally good visual learners, and observing a meaningful image is always an interesting experience. A nice picture captures the attention of your students, and can stimulate them to engage in interesting conversations in the class. 
Customisable lessons fit all teaching styles
The hotspot component offers numerous advantages. With the help of your students, you can add a lot of information to any part/detail of an image, without creating a textual overload. You could ask them about what they ate at a restaurant, or from which rock they enjoyed looking at the sea, some info about their hotel, or along which street they liked to walk. Proceed with adding relevant hotspots to the image.
To make it even more interactive, add also the audio component to the hotspots, involving more than one sense. Working on this assignment together will probably stimulate your students' creativity. It's their holiday panorama: only the sky's the limit… 
5. Prepare a holiday blog or presentation 
Ask your students to present their summer holiday as a whole experience, a story. By writing a dedicated blog article or preparing a presentation.
The main goal is to write an article that other students can read and comment on. At the end, you could post the final products on your school's website or make them into wall posters with images and captions. This allows you to immortalise your students' holiday experiences for the whole school year, and have them work on their writing and presentation skills. You are putting their memories and experiences at the centre of your attention. Most probably, it will stimulate them to go the extra mile.
The article could include the following information: 
Background information (history, geography of city/area) about the place/s they visited
Highlights of their trip
Unexpected things they enjoyed
Things they have learned to do, or learned about themselves
Why would they advise others to go on this holiday (5 reasons)
Alternatively, this information could be used for a (in person) class presentation: "Today I'm going to talk about 5 reasons to visit Barcelona."
Work on presentation language and ask students to focus on 5 (4 or 6) reasons to visit a certain place. They should include images and mention their personal experiences. 
If you teach older students who decided to work during the summer holidays, have them also prepare a presentation about their experience. It can be just as interesting to present it to fellow students. It may even inspire others to find a summer job next year.
Take charge of the classroom with our simple, reliable tool
LessonUp is the perfect platform to share your students' summer story with the rest of the class.
Have students send you their holiday blog article. If they are comfortable with it, you could share it with the class in a LessonUp lesson or presentation, complementing the text with pictures of their holiday. There are many available layouts to choose from and extra components that can be added to the presentation slides: hotspots, formulas, traffic lights, spinners, tables, extra text and/or images.
At the end of the presentation you could implement a quiz question or a poll, and involve the entire class by asking questions or opinions about "their" holiday experience. Alternatively, you could do so by using a spinner indicating the names of your students.
What a great way to stimulate creativity, storytelling, selecting thinking, and sharing.
Got curious? Sign in, create your own lesson to present after the holidays and discover how you can boost engagement in the classroom!