Become our ambassador and inspire other teachers.
LessonUp Ambassadors are a cherished team of passionate teachers, who love working with our platform. They are at the heart of what LessonUp means. Every day, they help us empower teachers from all around the world with information, technology, tips & tricks to elevate their teaching experience.
Feeling inspired to join our unmissable Ambassadors team? Check out criteria and details below. We can't wait to receive your application form! 😊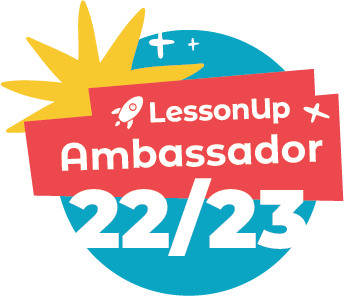 1. You are committed to getting to know our platform. We will help you become an expert thanks to a dedicated training, part of our ambassador programme.

2. You are known as a great communicator, and like to explain how things work. You are extroverted, enthusiastic, enjoy talking and getting people carried away.

3. You love working with LessonUp, and believe that it improves your working life, and the engagement & performance of your students.
Benefits of becoming a LessonUp Ambassador 🚀
A free LessonUp Pro Licence for an entire year!* 🎉 
Sneak preview and testing of all our new features and product updates
Invitations to LessonUp sessions for Q&As and product demos
LessonUp's exclusive gadgets and goodies will all find their way to you
Invitations to exclusive gatherings and events (if present in your country)
Your most inspiring stories, interviews and quotes will be published on our website, newsletters, and on social media
Access to our private ambassador community for inspiration and collaboration
Most importantly: you will help improve the lives of your colleagues and their students 👏

*Not applicable for the Netherlands
What will you do as a LessonUp Ambassador?
Show your enthusiasm in LessonUp workshops and webinars 🙋‍♀️
Give product feedback and test all of our new features 💛
Help spread the word about our mission online 🗣
Represent LessonUp at events as our special guest 🌟
Introduce LessonUp in your own educational network 🤝
Share your inspirational story with our teacher community 🙌
Be proud of your official ambassador badge 📛
Excited about our ambassador programme? Or do you want to receive some more information? Apply and we will be in contact shortly.