Workshops about LessonUp
LessonUp offers a range of workshops: for starters and experts.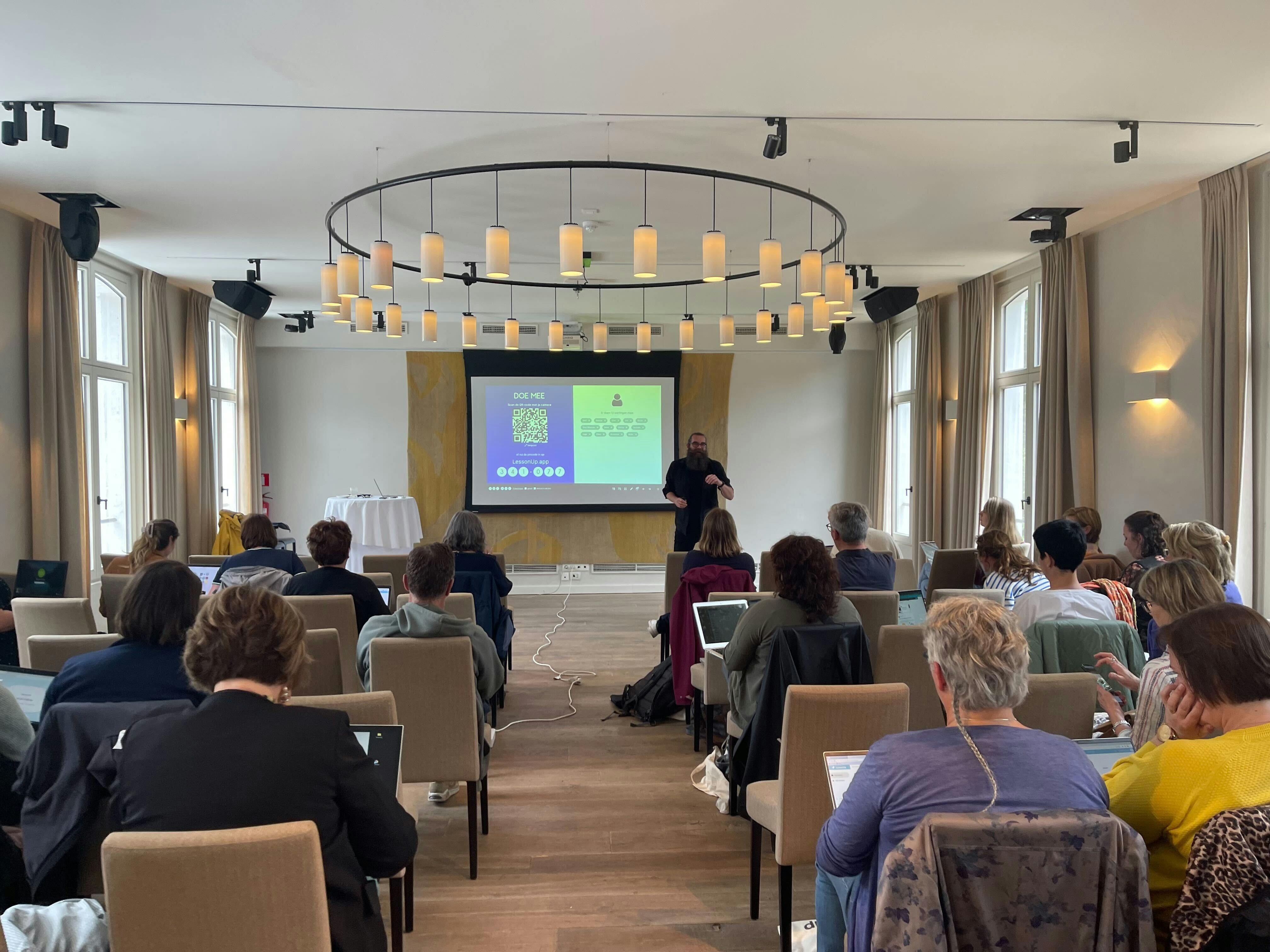 Attend our workshop at school or remotely
Would you like to attend our workshop together with your colleagues? We would like to visit your school and offer you a targeted workshop in person. If you prefer to follow a digital workshop, that's also an option. Choose from one of our regular workshops or request a customised one.
Each workshop costs 499 euro incl. vat. A maximum of 25 people can participate in our workshops.
Workshop 'Starting with LessonUp'
Are you going to work with LessonUp for the first time? Or are you ready for a refresher lesson? This workshop is perfect for you.
The workshop "Starting with LessonUp" is ideal for users who want to get acquainted with LessonUp's basic features and functionalities. During the workshop you dive into the fundamentals of LessonUp, among which:
What is LessonUp?
Basic functions
Creating, finding and editing lessons
Interactive features and components
Use LessonUp with or without devices
Workshop "The next step in LessonUp"
Would you like to get to know LessonUp better? This workshop is for you.
The workshop "The next step" is perfect for users who are already acquainted with LessonUp's basic features. You can attend this workshop only if you are working with a payed teacher licence or with your school's licence. During the workshop we dive into some interesting features and possibilities, among which:
Creating classes
Sharing lessons with students
Assessing reports
Layout tips en tricks
Implementing interactive features
Creating and sharing tests
Workshop "Become a LessonUp expert"
You are used to implement open-ended questions, interactive exercises and create tests in LessonUp. Piece of cake? Do you really want to get the most out of LessonUp? If so, this workshop os perfect for you! During this workshop, we will address your school's inquiries, such as:
Didactic teaching methods with interactive features
Differentiate your tests
Gamification
LessonUp in a hybrid setting
Workshop 'Train the Trainer'
Ben jij een kenner van LessonUp en geef jij binnen jouw organisatie trainingen over LessonUp of wil je dit gaan doen? Are you a LessonUp expert and do you offer, or plan to offer, LessonUp trainings within your organisation? If so, this workshop is for you. You will learn how to motivate and inspire your colleagues, and teach them the ins and outs of LessonUp. During the training we will dive into the following topics:
Kennis over nieuwe functionaliteiten
Collega's op een inspirerende manier kennis laten maken met LessonUp
Collega's motiveren in het samenwerken in de schoollicentie
Omgaan met verschillende soorten gebruikers van LessonUp
Workshop 'Stap-voor-Stap'
Stap-voor-Stap is een eenvoudige, prikkelarme digitale module, waarmee moelijk lerende leerlingen in het praktijkonderwijs & (voortgezet) speciaal onderwijs zelfstandig kunnen werken. Het huidige instructiemateriaal kan eenvoudig worden ingevoegd in de Stap-voor-Stap module. Aan het eind van deze workshop kun je Stap-voor-stap inzetten voor je leerlingen.
Nieuwsgierig of wil je graag meer informatie ontvangen over onze workshop? Vul dan het formulier in, wij helpen je graag.