Create the most engaging interactive lessons with LessonUp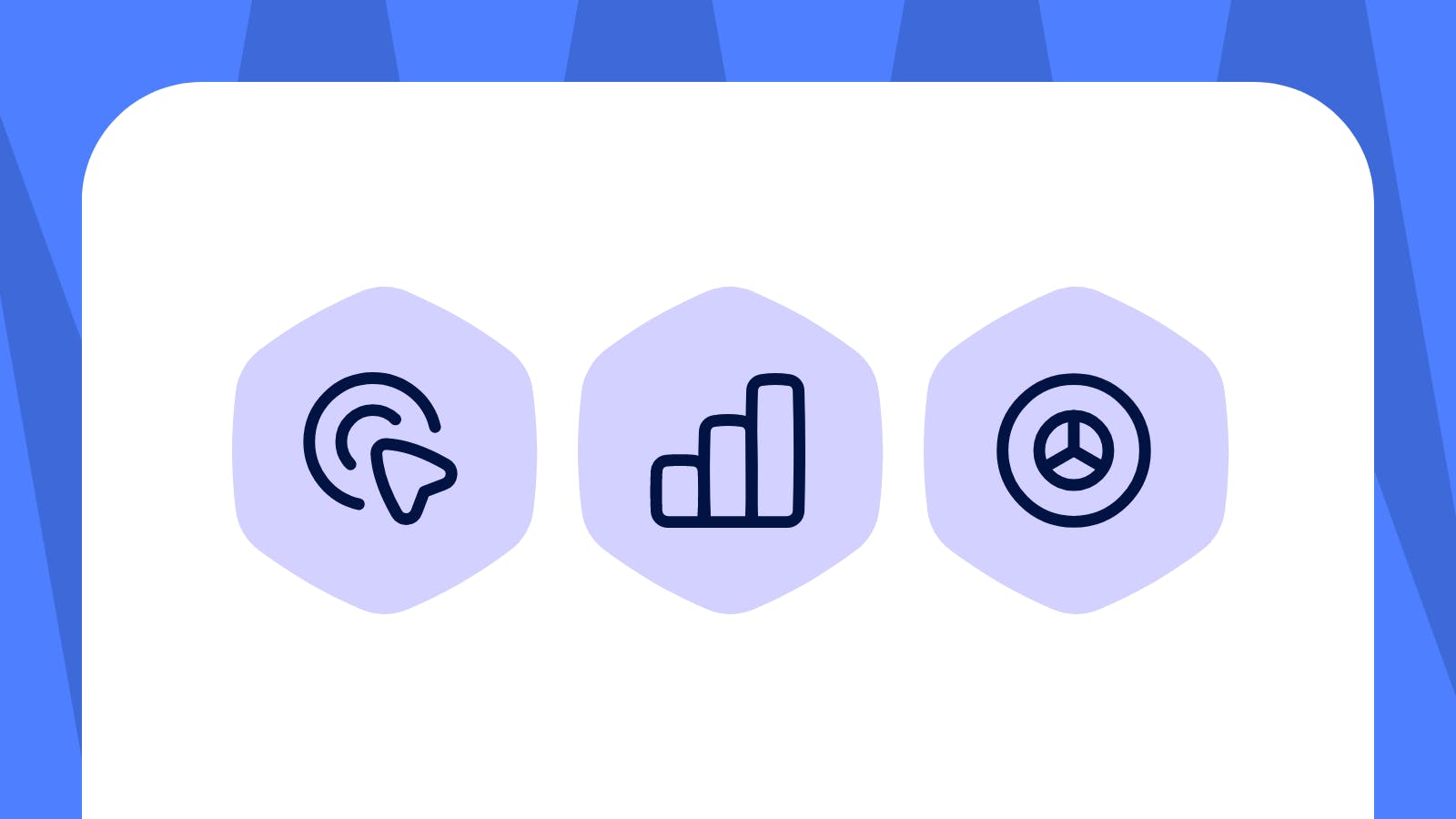 Creating engaging interactive lessons is easier than what you think.
Say goodbye to millions of tabs on your computer! 👋
LessonUp has a number of interactive elements that you can add to your lessons: quiz question, open question, photo question, mind map, and drag & drop question. Each one creates different engagement, making your lesson more dynamic and unique. More importantly, they are effective ways to process the learning material for students.
The cool thing is that you only need to use one platform and tool: LessonUp.
By the end of this article, you will know how to use different interactive elements, and how students can participate in the lesson with or without devices.
Would you like to know more about creating a test/assignment with interactive elements? Check out our 👉 4 tips on how to create a test in LessonUp.
New to LessonUp?
Sign up with LessonUp and try out our Pro subscription for 30 days free of charge! Build engaging lessons, track real-time learning and share homework with your students.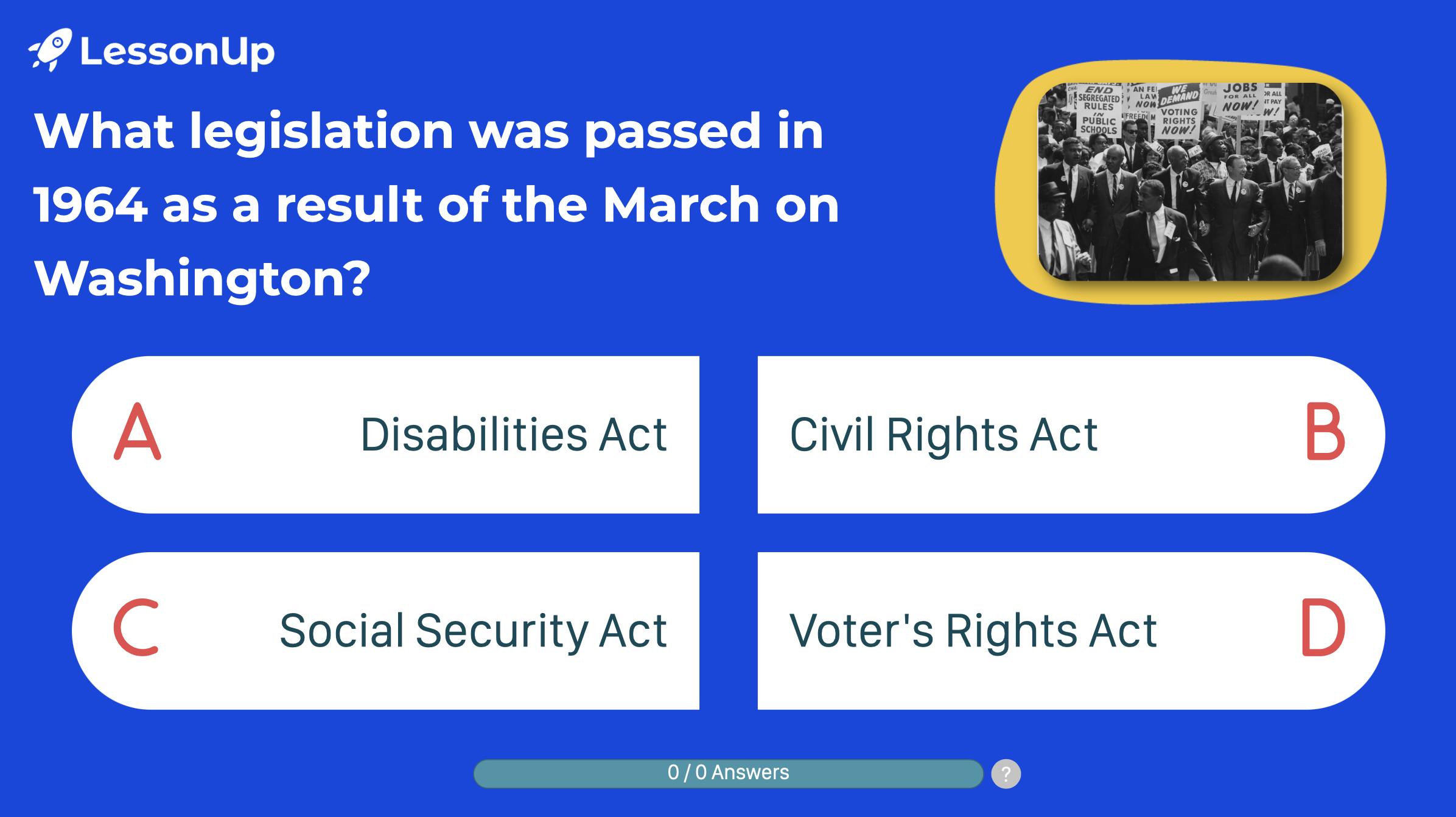 Quiz question
With a quiz question during a 'live' lesson, you can use it as a game element to quickly question student knowledge. A quiz question can be used throughout the lesson: as an energiser, check in or as review. There's no maximum limit to using quiz questions per lesson, but we suggest between 5 to 10 per lesson. The more you use without any other interactive variations, the more likely you will lose student attention and engagement.
The quiz question is also good to use as a right/wrong or true/false question. To do this, you can leave 2 answer options blank: during the lesson these will not be shown. This type of quiz question is perfect for challenging your students' memory and activating it, for example, after reading a text (source) or watching a video.
In this video our colleague, Alice, tells you how to make a quiz question with LessonUp.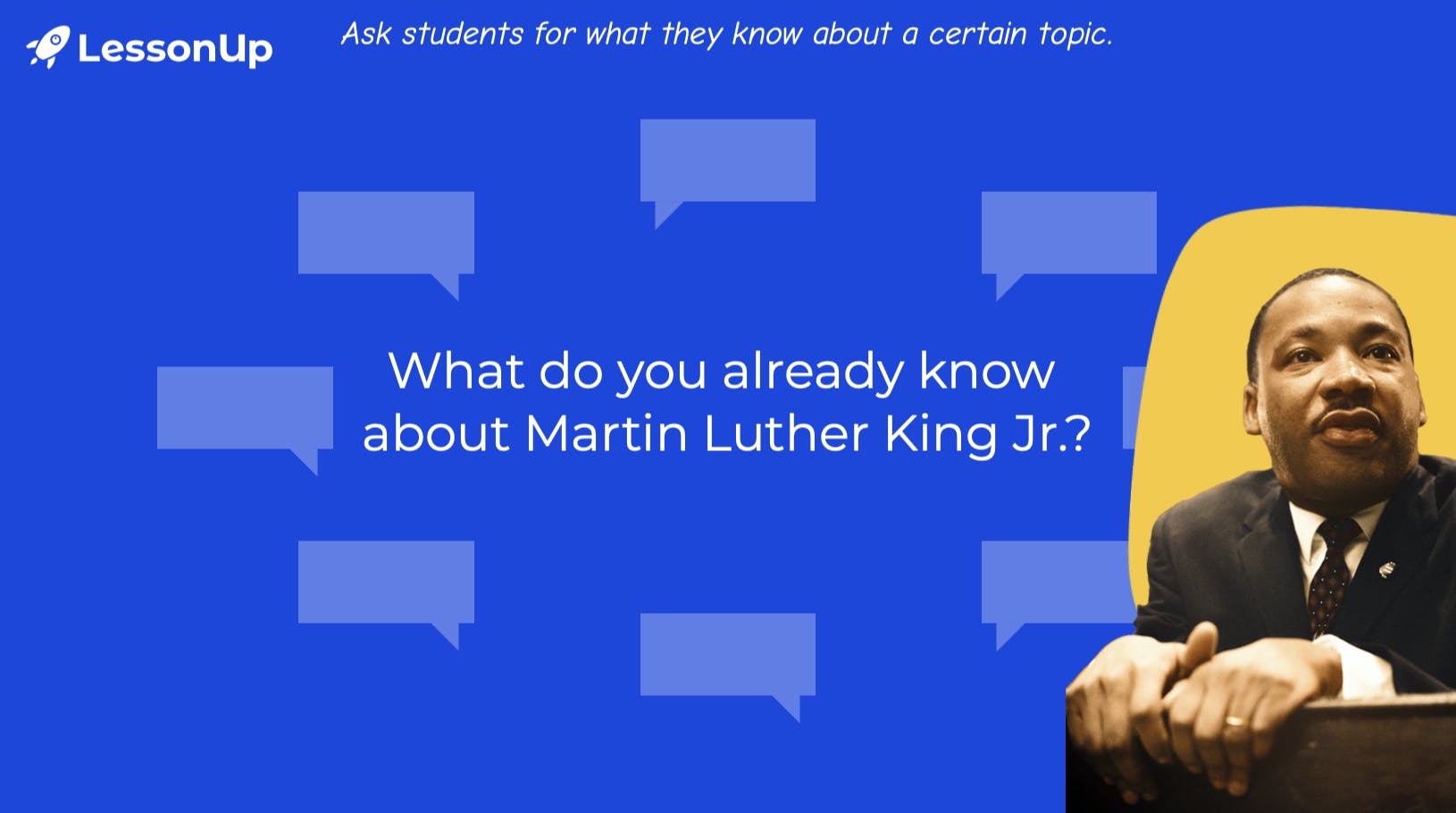 Mind map
The mind map in LessonUp is a particularly popular component. Many teachers use it to activate students' prior knowledge. By asking for (and especially giving feedback on) prior knowledge, the new material you will teach will be better digested. In the learner's "working memory" (Ausubel, 1968), prior knowledge has been proven to be placed alongside the new information.
Although the idea of a mind map is almost as old as education, the digital version in LessonUp offers a number of advantages. For example, you have the option to keep responses anonymous, or visible by clicking on each answer once. In that case the student's name will appear next to the answer. You can also delete inappropriate responses by dragging them to the trash bin in the left hand corner. All responses can always be accessed afterwards, in the lesson's report.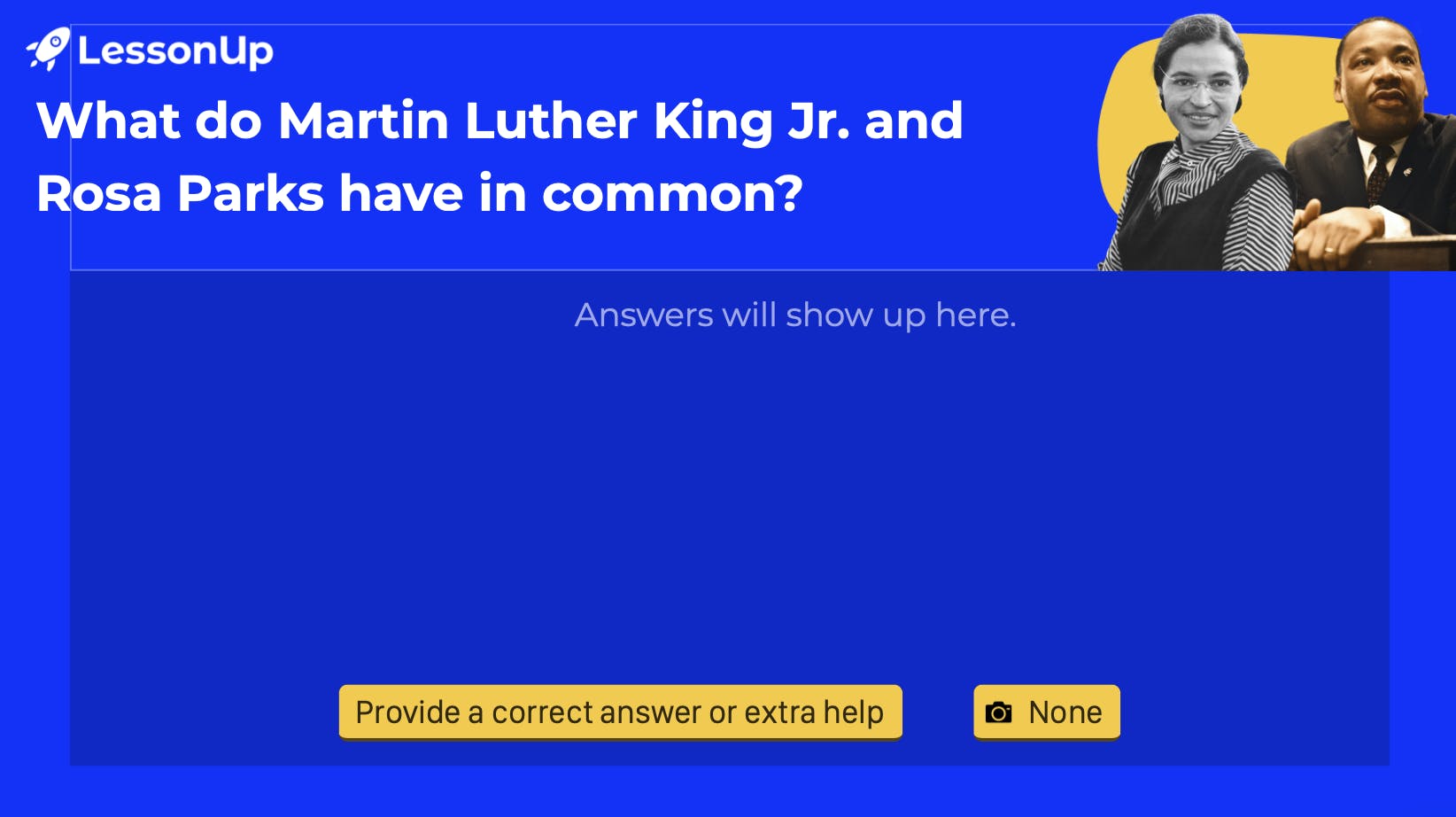 Open-ended question
An open-ended question in LessonUp offers the best opportunity to provide unique and engaging discussions. Whereas a quiz question is best for reviewing of material, an open-ended question can give more depth to new or old subjects. Whether it's an application or insight question, students are able to provide an in-depth and comprehensive answer.  During the classroom lesson, the answers are displayed as cards and the teacher is in control: he or she can display and discuss answers one by one. 
Using a digital open-ended question eliminates the need for students to raise their hands and allows quieter students to participate. An open-ended question is also a powerful exit ticket material.
View this video to see how to make an open-ended question in LessonUp.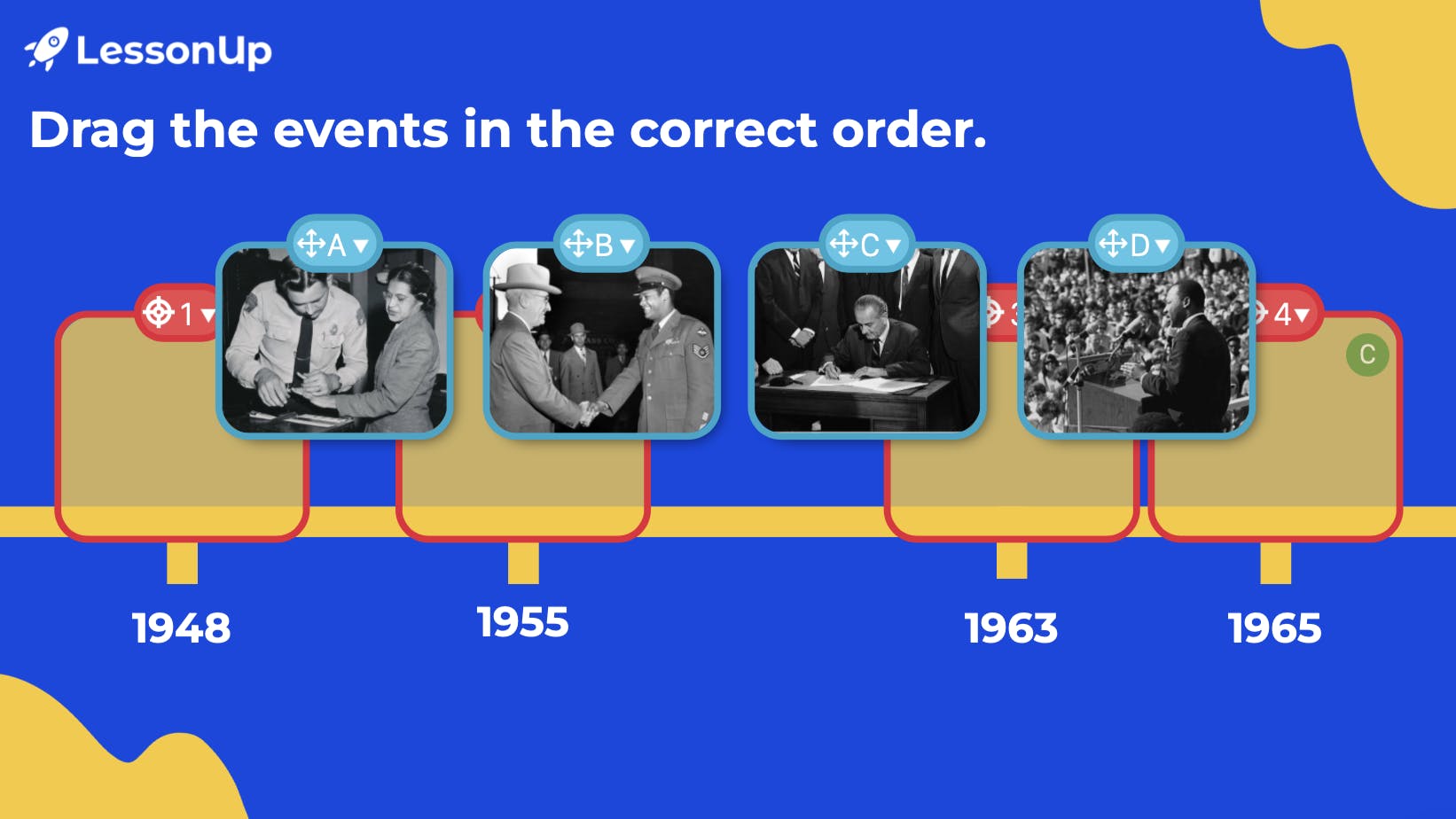 Drag-and-drop
The drag & drop question in LessonUp offers the most unique interactivity as it physically requires students to drag and drop elements to the correct target/s. In addition, you can provide different variations of learning: reviewing event timelines, activating language vocabulary or connecting themes and terms. The drag & drop is challenging, but fun for students as they have to put more effort into it to provide the correct answer/s.
View this video to see how to make a drag and drop in LessonUp.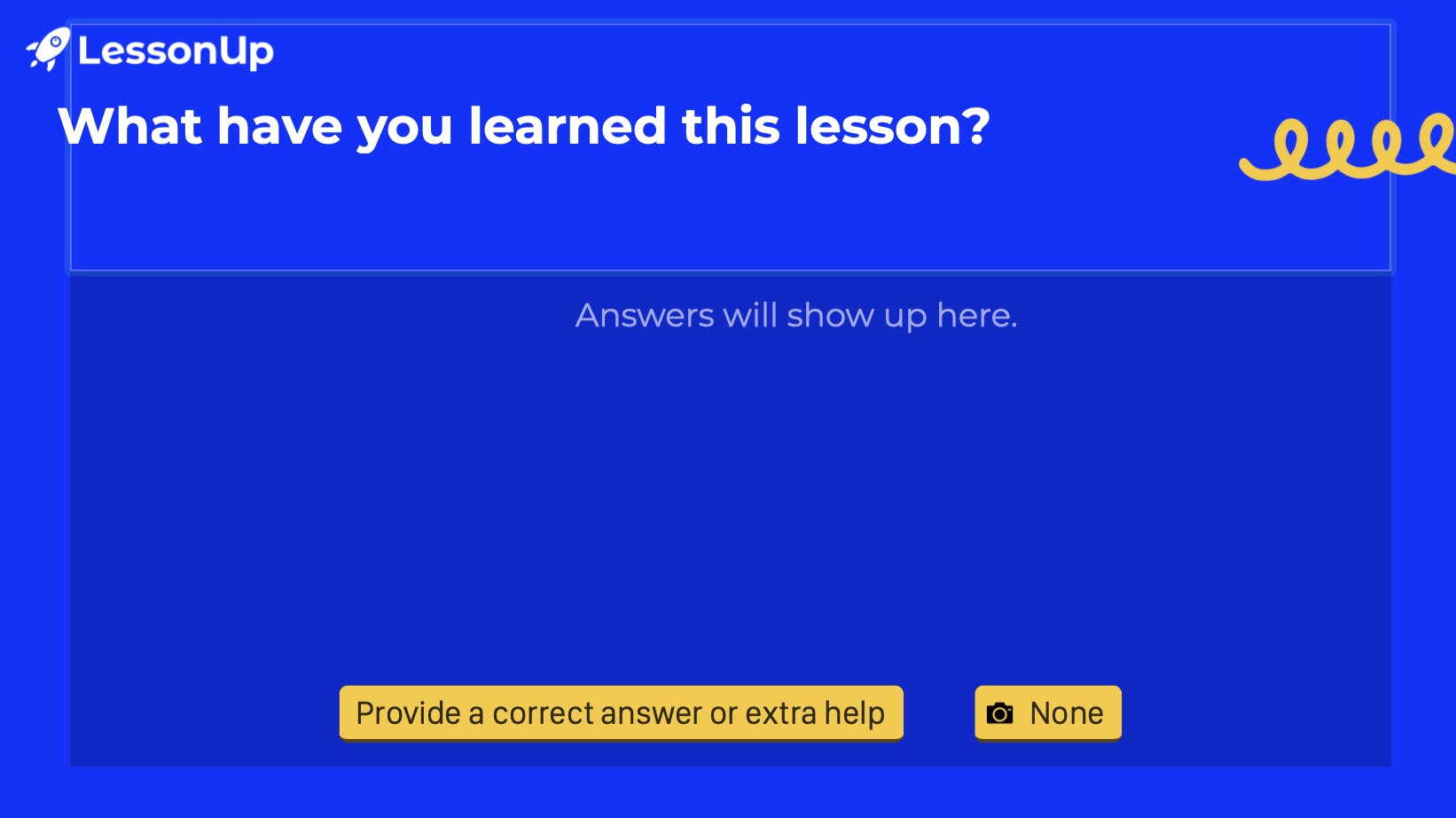 Exit ticket
It is important to evaluate the lesson and the achievement of learning objectives. To do this, you can use an 'exit ticket' by using two open-ended questions or a poll. The first open-ended question stimulates students to think about what they've learned. For example, 👉 "Write down 3 things you learned from this lesson." The second open-ended question allows students to actively ask a question, 👉 "Ask 1 question about a topic you would like to review." This information helps you give them targeted feedback. In addition, by using the poll as an "exit ticket", you can check how students feel about what they have learned.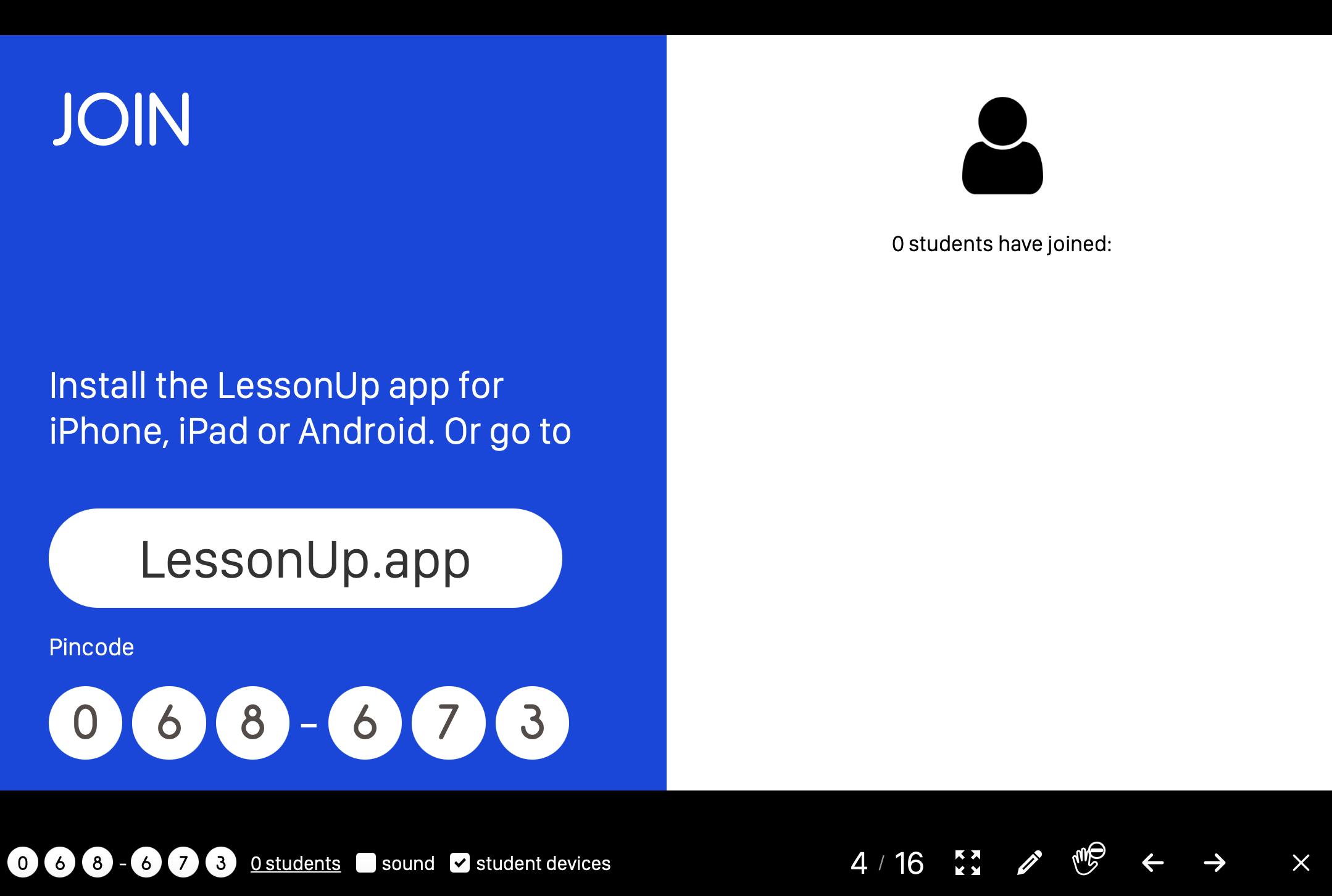 How do students participate?
Click on Teach to start presenting a lesson. Each lesson has a unique numeric code. The six-digit pin code is valid during the whole lesson and for all interactive parts. The students use one pin code per lesson. The pin is always shown in the lower left corner, but also appears on the screen once an interactive element is about to appear in the lesson. Students enter this six-digit code into the LessonUp app (free on iOS and Android) or through the lessonup.app. Next, students can enter their name. We suggest to communicate to your students that you can easily delete inappropriate names by clicking on the 'X' next to a name.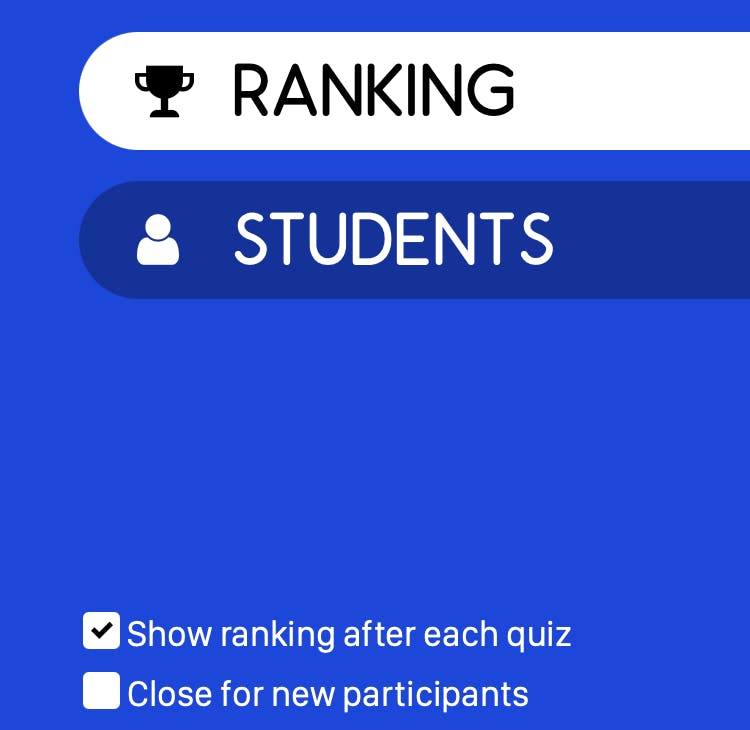 Ranking or not?
In LessonUp, it's possible to turn off the ranking feature. The most common reason to do this is: "I don't want to put pressure on my students right now." In the presentation view (via: Teach), click on the six-digit pin code on the bottom left. A screen will appear with the option: "Show ranking." Un-click the checkmark and continue with your lesson.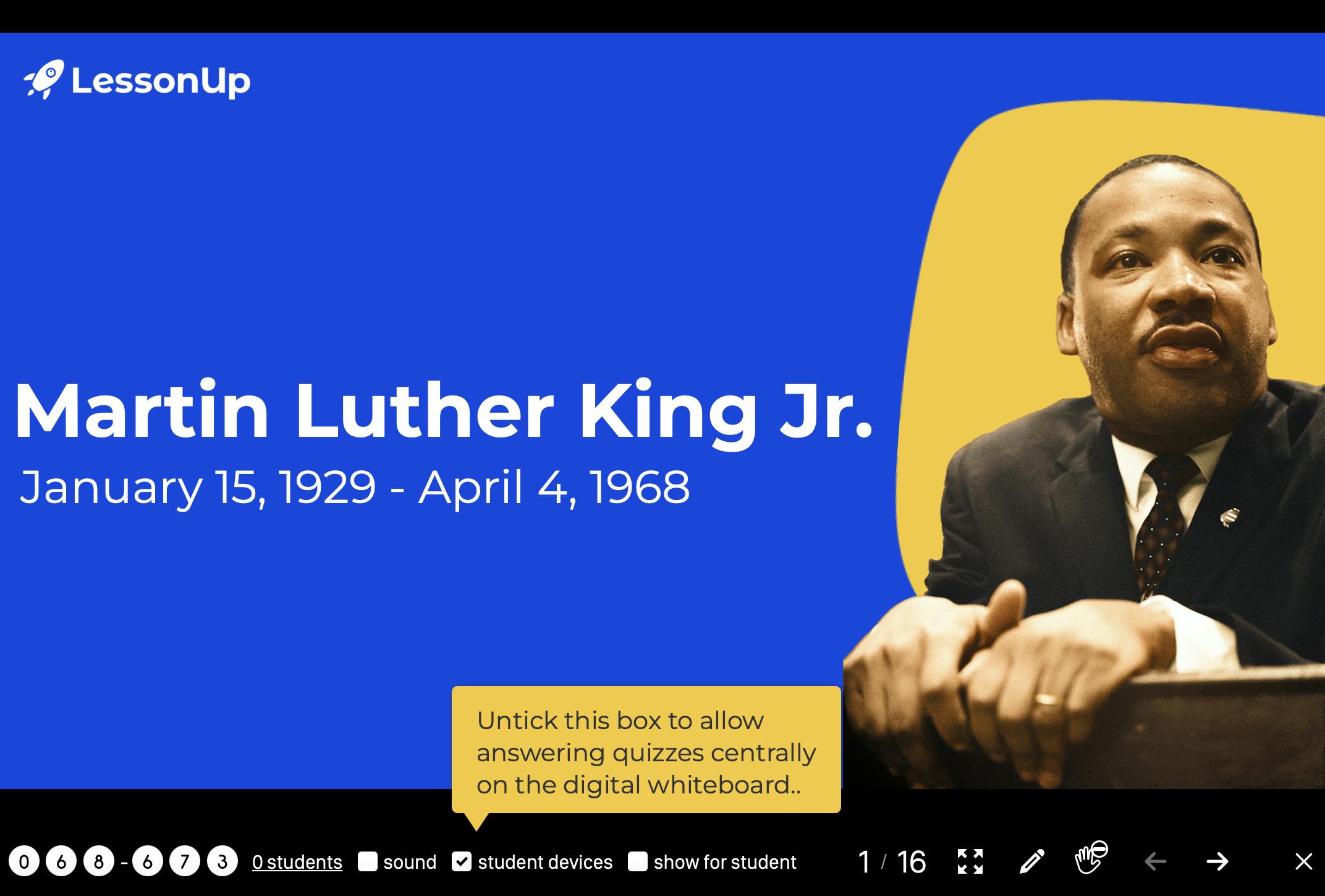 Disabling devices during a lesson
The interaction in LessonUp is great, but sometimes the dynamics of a lesson/class can be chaotic.
LessonUp provides you with an opportunity to turn on or off student devices. If you decide to turn off devices, students can no longer participate with their smartphone/tablet/laptop, but can still participate interactively in LessonUp. You (or a student) can now lead the interaction (quiz question or drag & drop question) on the central screen. This gives you full control of the lesson.
You can find this function in the presentation view (via: Teach) at the bottom of the screen. By unchecking the checkbox 'Student devices,' the use of devices in LessonUp is turned off. Note that turning off this feature applies to every lesson you give after doing so. You can easily turned it back on by checking the box again.
Last, but not least!
All interactive elements can, of course, be created by you. However, there are thousands of elements in LessonUp that can be used or adapted to your own purpose. Pre-made lessons made by others, e.g. from a variety of content creators, are also great for inspiration. Save these lessons in your own account and see how you can incorporate them into your daily teaching!
New to LessonUp? Watch the video below on how to use the lesson editor and create your first interactive lesson in LessonUp. You'll see. It's easier than what you think. Enjoy!