Spin your students back to action!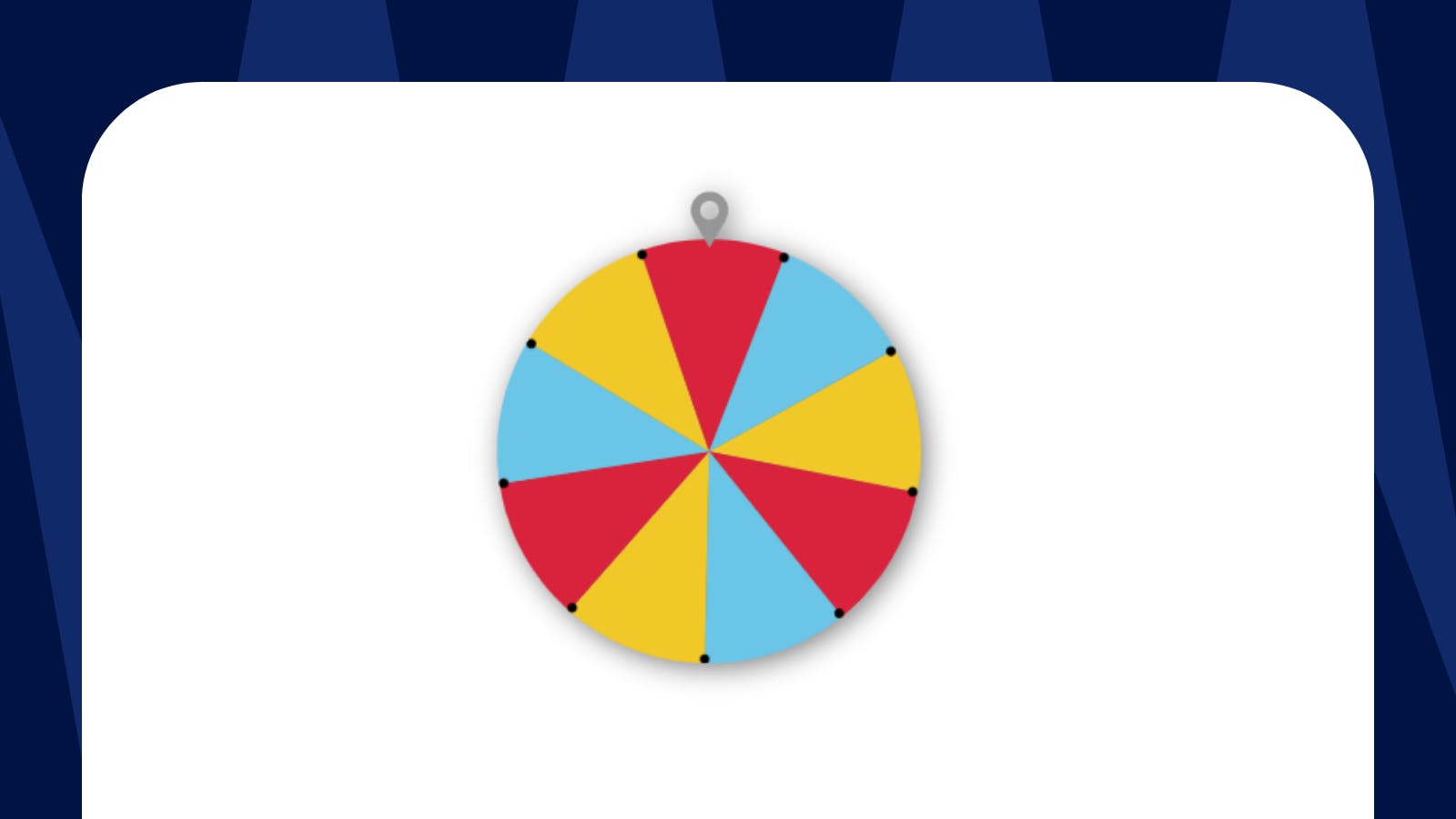 We have the perfect interactive feature to help get your students into action mode! Let's engage them straight away with words, visuals and motion working together.
A spinner is an exciting addition to your lessons. It will randomly select whose turn it is to ask or answer a question. Alternatively, you can start sentences within the spinner wedges and ask your students to complete them, fill it with targeted questions, or create teams to play a game together… Engage your students with the spinner! How? Hereunder are some ideas on how to implement the spinner in your lessons.
1. Formative assessment with the spinner
Random questions asked in a playful way are a perfect way to assess your students formatively. As a variation to assessing students individually, divide your class into pairs, and encourage them to evaluate random questions together. 
A digital spinner to engage your students
The LessonUp's digital spinner is the perfect interactive tool to carry out a formative assessment at the end of a lesson. Questions are chosen randomly by the spinner, creating an 'unpredictable', yet fun and exciting classroom dynamic. 
As a teacher, you decide which questions you want to insert. You can write as many different questions as you like. Students love working with the invigorating spinner.
2. Spinning ideas
If you think of the random spinner component, the first thing that comes to mind is to implement it as a name picker, by filling it in with the names of your students. If you are working in a digital class, though, once your students are logged in, you won't even have to fill in their names. They will appear automatically in the sections of the spinner. 
Instead of your students' names, you could opt to indicate concepts or questions in the spinner wedges, to carry out formative evaluations. Create playful learning techniques to engage your students with, during in-person, digital, or hybrid lessons. 
How to create a spinner in under 1 minute
Add a spinner in a digital slide by pressing on the button + Component, followed by Spinner. Double click on the settings wheel (upper left-side wheel symbol), click on Settings (pencil), and check the box "use terms instead of student names". Proceed by filling the window with the questions, terms, sentences that you want your students to work with. Separate them with commas & press OK. The spinner is ready to go!
For more information, check out the youtube video 👉 How to add a Spinner in under 1 minute. 
3. Bingo!
There is not much to explain while introducing this learning technique. Every teacher knows what bingo is, and has played it once or twice with their students. 
Bingo can be applied to all subjects in different ways. Herewith a couple of examples:
Maths: indicate a number of different additions. The numbers resulting from resolving the additions have to be covered/crossed out on the bingo cards. 
Geography: indicate a number of different countries. The capitals of the indicated countries have to be covered/crossed out on the bingo cards. 
Chemistry: indicate the names of the elements. Their symbols have to be covered/crossed out on the bingo cards. 
History: indicate a number of historical events.The years these events took place have to be covered/crossed out on the bingo cards. 
In a playful way, students are asked to explore different kinds of notions concerning your subject matter. Brain connections and information processing are reinforced.
Activate your students with a digital bingo lesson
The LessonUp spinner is the perfect interactive element for the learning technique bingo. Teachers digitally initiate the spinning of the wheel, and students have to cross out their answers on their own bingo cards. Just as they do while playing bingo at home.
If you are working with words, make sure you prepare your own bingo cards beforehand. There are online generators that help create them with a tailor-made number of words. Once done, you can send them via email to your students, or print them out. If you are a maths teacher, you can use standard bingo cards with numbers. 
On the various sections of the spinner, indicate the chosen additions, countries, historical events, or any other data that you want your students to work with. If you decide to use standard bingo cards, keep in mind that you will have to fill in 75 wedges of the spinner. It takes time, but once done you can apply this learning technique to different classes and/or groups of students. The spinner is a beloved interactive feature.
4. Match a question to this answer…
One of the best ways to understand a new topic is to ask questions about it. This is valid for everybody, and especially for students who are preparing for an assessment, or simply reviewing a lesson. Curiosity and question asking helps memorise and anchor new concepts. Moreover, it makes learning more interesting and dynamic.
With this learning technique, students are shown a word or sentence concerning a certain topic, and they have to think of a relevant question to this answer. 
"Match a question to this answer" is perfect for subjects such as history or geography, but could also be applied, with some adjustments, to maths, languages, and other subjects. It can be implemented in the classroom, with your supervision, or as independent homework. 
"Does anybody know the question to this answer?" 
Use a number of spinners to apply this learning technique in LessonUp. 
Spin the first spinner to choose which category your students are going to work with. The wedges of this spinner could indicate, for example, the following categories: concepts, years, people, and places. For each category prepare another targeted spinner. For the category "places", you may spin the relevant spinner and get the following answer: "Saint Helena". Your students have to think of a possible question to match this answer: "Which island was Napoleon banished to?".
There are many possible variations to this learning technique. If you teach mathematics, for example, you could implement a spinner indicating a number. Followed by a second spinner that shows which process students have to follow to get to the correct question.
5. Trivial Pursuit
Trivial Pursuit is a well-known board game based on the ability to answer questions about popular culture and general knowledge: from sports to historical facts. At the end of the game, the winner is the person who scores wedges for each colour.
Winning the game is the reward for answering as many questions as possible. Students enjoy the game, its competitive element and look forward to gaining the reward at the end of the challenge. That's why gamification works so well in an educational context.
Trivial Pursuit is perfect for repeating and practising lesson material.
Gamification with the LessonUp spinner: let's speed up things
The game is smartphone friendly, created for two individual opponents or two teams. 
The students have to score three circles, one per colour, in order to win. The game unfolds itself quickly and ends rapidly. That's a great advantage of this digital version!
To implement it you have to use a few different LessonUp components. Use hotspots to create cake wedges. They can always be repositioned within the slide. The colours of the three circles have to match the colours of the spinner wedges. 
The tray and the coloured circles within the tray can be created by using the Symbol component: a square + three circles. Add the spinner, and choose for the option: "use terms instead of student names". Write your Trivial questions, separated by commas. 
The spinned decides which questions and colour you are playing with. For each correct answer you win a coloured circle. The first one to have a complete set of colours is the winner. Yet, since the spinner selects the colours to play with, a player might already have that colour, and must answer the question without being able to win an extra circle. 
This learning technique can be implemented both during an in-person or a digital lesson. You could create two teams in the classroom, for example girls against boys. 
Trivial Pursuit can be implemented during all lesson phases, also in preparation for an exam, or while introducing a brand new topic. 
Curious about LessonUp? Or would you like to learn more about the interactive features and didactic benefits? Join one of our free webinars and learn more.